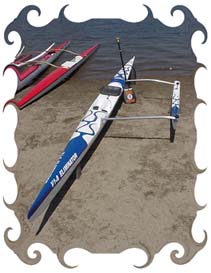 HUKI V1-A (OC-1):

First introduced in September of 1998, the V1-A was the first OC-1 design collaboration between Jerry Montgomery and myself Jude Turczynski. Probably the winningest OC-1 design in Northern California and the Northwest U.S, the HUKI V1-A has taken nearly 2/3 of all placings in these areas since her introduction, and has taken an excellent portion of placings in Southern Cal and the Eastern U.S as well. She's a long proven flat to moderate conditions performer for people who seldom venture into stormy, steep chop & tall white caps. She tracks very well and is easy to keep on course when racing without a rudder. With her rudder in place, she handles quite well in small waves & light weather.

Optimum weight (in comparison with my other canoes) would be very light paddlers up to 160 Lb. although she runs better than most canoes when the paddler weighs as much as 210 Lb in light conditions. Paddlers under 145 pounds can find nothing faster in any water condition.

The aluminum "iako" (outrigger arms) attach to the main hull of the canoe via a receiving hole in the deck. They're fixed in place by depressing a "detent ball" on the side of the iako. The "ama" (outrigger pontoon) can be adjusted close or far from the main hull by depressing the detent, sliding the iako to the next position and allowing the next ball to pop into place. Adjustments to the pitch of the ama and stability of the canoe can be made by moving the mounting knob, up or down the threaded rod risers on the ama deck.

On the V1-A, you can wear most sandals & booties, and we can install self bailing footwell drains and stow hatches. We can install bungees on the fore deck and aft deck or where ever you want them, and can place a kelp guard in front of the rudder. She has the HUKI adjustable response rudder system and can be rigged with the flat water or rough water ama, and long or short rudders.


Dimensions:
21' 7" LOA, 13.75" BOA
20' 2" LAW, 11.8" BAW @ 150 Lb. paddler
21.5 Lb assembled main hull (Carbon/Vac)

Click on picture to enlarge.